From the people who brought you Digital Lovers, Pandemonium, Summer Nights, and We Are 3D comes the next round of Zombie Action success from our first Dead World!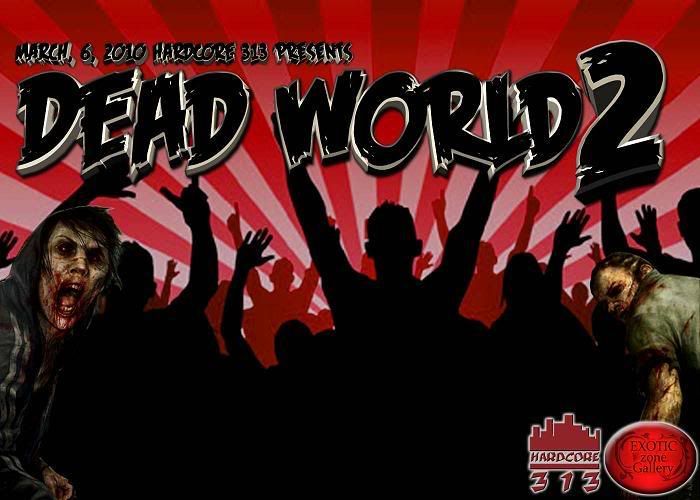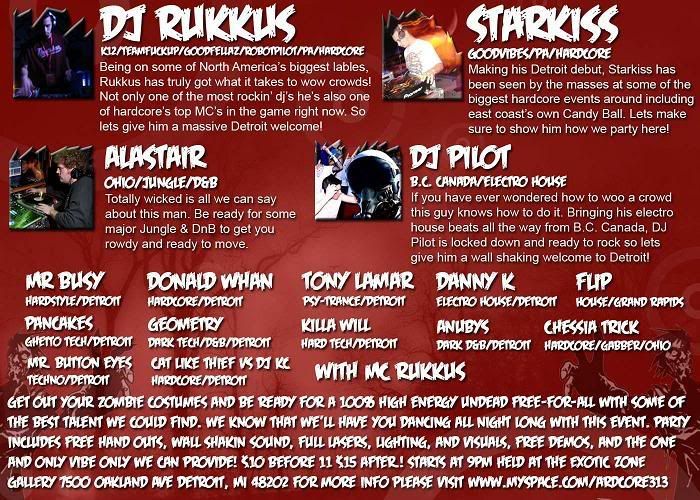 Last year we dragged little Jimni Cricket from her wet home in Seattle to the city of Detroit and had a blast with over 300 strong! This year we bring you the wild rumpus of Rukkus and the high energy sound of Starkiss! Also to compliment the night and to mix things up we have DJ Pilot bringing the beat and Alastair giving you a bass line.
Lineup is setup with our headers this year being:
Rukkus
Starkiss
DJ Pilot
Alastair
Mr Busy- Hardstyle/Detroit
Donald Whan- ********/Detroit
Tony Lamar- Psy-Trance/Detroit
Danny K-Electro House/Detroit
Flip- House/Grand Rapids
Pancakes- Ghetto Tech/Detroit
Geometry- Hard Tech/Detroit
Killa Will- Hard Tech/Detroit
Anubys- Dark DnB/Detroit
Chessia Trick- ********/Gabber/Ohio
Mr Button Eyes- Techno/Detroit
Cat Like Thief vs DJ KC- ********/Detroit
~New Venue~
~New DJ's~
~New Faces~
~Great Vibes~
~Great People~
~Fresh Fruit~
~Free Hand-Outs~
~Wall Shaking Sound~
~Amazing Visuals(Maybe even bubbles!)~
~Full Zombie Themed~
~Small Bar for 21+~
This event is 18+ and is located at the Exotic Zone Gallery 7500 Oakland Ave Detroit Michigan 48211.
$10 BEFORE 11pm $15 after. Event starts at 9pm.
For more information contact us at:
http://www.myspace.com/ardcore313
or email me at:
LuMooMafia@Hotmail.com
WARNING THIS EVENT WILL SELL OUT SO GET THERE EARLY!